Project Description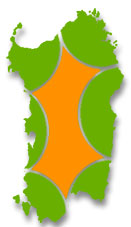 Hotel Residence Funtana Noa is located in Villanovaforru (between Cagliari, Oristano and Barumini) in the heart of the Marmilla region, surrounded by gentle hills and centuries-old olive trees. The family-run Hotel Funtana Noa is the ideal destination for anyone who wants to feel at home when travelling and who is looking for peace and tranquillity. It is perfect for anyone who enjoys walks in the fresh air, sports or adventure and who wants to immerse him- or herself in ancient Sardinian history.
The 30 hotel rooms are all bright and spacious and are distributed over two floors. The furnishings, hand-made by Sardinian artisans, capture the style of typical local art. Some of our rooms overlook the surrounding countryside, where you can admire centuries-old oak woods and their contrast with the inimitable Sardinian sky.
Funtana Noa Residence, Il Borgo, is an enchanting collection of lodges adjacent to the hotel, designed with the idea of reproducing a traditional Sardinian village with its narrow, paved lanes and murals, giving guests and visitors a sense of stepping back in time. It is made up of small welcoming and comfortably furnished residences. Walking around il Borgo, you will be able to admire a true open-air museum: every doorway offers a glimpse into a different world.